GeoStudio Fails to Install: Error 0x80072efd
You are installing GeoStudio and the program fails to install. You check the setup log file and notice the following error code listed:
Error 0x80072efd: Unknown error...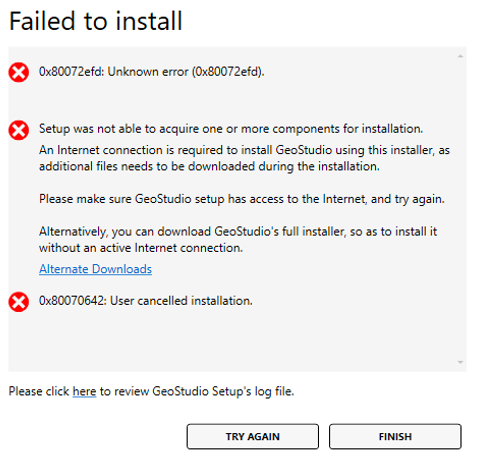 You have attempted to use the partial installer to set up GeoStudio. The partial installer is trying to download additional payload components necessary to complete the installation. Something is preventing that from happening. This could be a result of antivirus software, firewall rules, or a problem with your internet connection.
The recommended resolution is to download the full installer. The full installer does not need to download additional payload components to complete the install. You can get the full installers for GeoStudio from:
https://www.geoslope.com/learning/downloads/alternate-downloads